You know the Pixar movie 'Inside Out'? The movie about tiny creatures inside your head that symbolized different emotions like joy, anger, envy and sadness. And I remember how annoyed I was when Joy (the one in green dress in the pic) always bullies and push Sadness to the 'back of the mind' to stand in a circle. I felt back for Sadness. But isn't that how many people deal with their Sadness? Push it back in our mind, contain it somehow and kinda trying to forget that it actually exists. I guess I feel bad for Sadness, cos I don't treat mine like that. I mean of course I love to be happy, but I don't dislike to be sad, if that makes any sense. Like I've said before, my biggest fear is feeling numb. So while sadness might not be my favorite emotion to feel, I'm equally grateful for it, just like I am for any other emotions.
In that sense, the title of this post is slightly misleading. Cos I don't actually fight the blues when they come. I don't exactly welcome them with open arms but I greet them with acceptance, let them stay for as long as they feel the need to and then send them to their merry way knowing full well that it wouldn't be the last time they would visit. I mentioned before, I live my life swinging back and forth like a pendulum from one extreme to the other – extremely happy and then being down. Highs and lows, they have become the way of living for me. I know when I'm high that the lows are going to come and vice versa. So I don't fight the blues. I simply let them wash over me, trying to understand them, figure out the reason if there is one (mostly there isn't one), and most importantly, I treat it with respect. I almost never question it, and I never resent it. It's simply the price I need to pay for the highs and never feeling numb.
I have become so accustomed to deal with my blues that those who don't know me enough won't be able to spot the difference. I am definitely quieter, more tired and less social. I don't like to depend on others to help me to deal with the blues because… well, I don't like to depend on anyone but myself. I need to trust someone a lot before I would let them help me through something.
Anyways, I'm here to share things that I do when I'm down that makes it all slightly easier to bear. I can be quite unmotivated when I'm down, so I actually try to avoid so-called passive past-times like watching TV or movies or play games. I prefer active habits that I kinda force myself to do so that at least I would feel semi-useful if nothing else. So here are the five habits that I find helpful going through my downtime.
1. Cleaning and re-organizing
I'm not exactly fond of cleaning but I do love to have a very clean house. I'm pretty busy most of the time doing stuff and going out, so I utilize my downtime when I don't want to do anything but stay at home to clean my place. It's a good habit to have.
2. Exercising or going for a walk
Trust me, skipping your workout when you are feeling down or sad is not going to help the matter. 100% of the time when I practically force myself to finish a scheduled workout or just go out for a long walk, I would feel at least slightly better afterward. And your body definitely would thank you later.
3. Cooking and eating
I guess I can say that I'm lucky that I would love my appetite when I'm down. And cos I'm a foodie, if I stop wanting to eat, it is a sure sign of the on-coming blues. So I've developed a habit to just cook something good and healthy for myself and make myself eat on a schedule even though I'm not hungry. There's no reason to mess up your body at the same time just cos your head is in a stupid place.
4. Reading
If I can concentrate, then I would read something. Weirdly, it helps if it's not fiction. Something non-fiction that is still fascinating.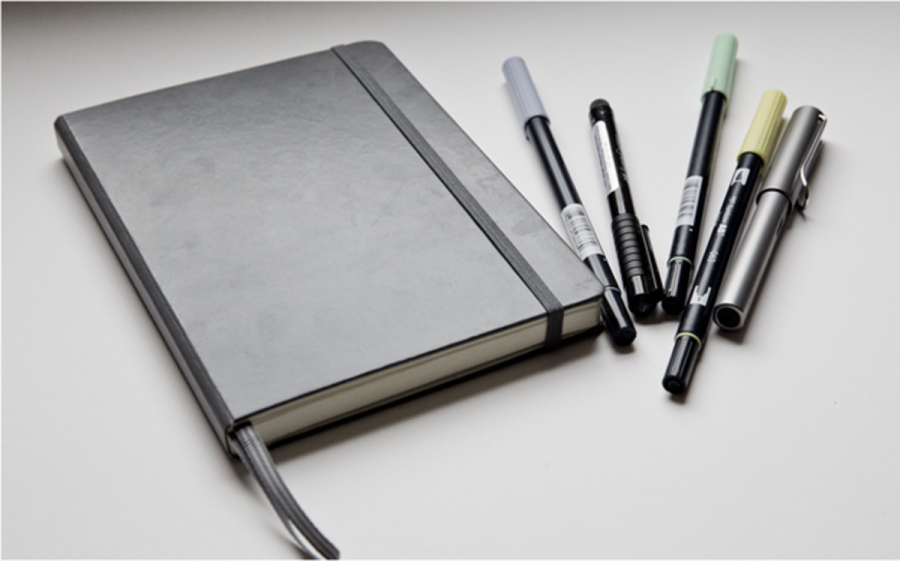 5. Bullet journaling and writing
Organizing your schedule works just like organizing your house, it helps to maintain order in things you have control over and it helps to clear out the chaos inside the head. I might not have the inspiration to write anything good, but writing in my own diary or on this blog always help me to clear out my thoughts or things that have been bothering me (in case there is any).
Here you go. Up next week, I will write a review of the book that actually inspired the happiness theme on the blog this month, a book called 'Happiness Trap'. It offers some really interesting points of views and takes on happiness. I can't wait to share them with you! So stay tuned!