I hope you all had a very sexy Valentine's Day! 😉 And if you tried the kinky little things I wrote about last week and you had an extraordinarily nice lovers' day, you just might be ready and eager to advance to the next level. So this kinky girl had prepared ten things of level two. Some might think that planning and preparing for sex may sound a little… well, not sexy, cos for some, passion has to be spontaneous. Trust me, the kinky and spontaneous combo will come with trust and with a suitable partner, but before that, planning and preparing can also be some delicious anticipation. Also, level two items might require some talking over, especially if you are new at kink. Because even simple things can have potential to do some damage mentally, physically and the worst of all, damage the relationship. So just talk it all over, re-talk it over and have some fun while you're at it. I mean, sex is most definitely one of my favorite subjects to talk about. 😛 So level two, plan and talk and try these next ten things out. 😉
1. Safewords

Okay, I know safewords are joked about in movies and books, but personally, I think every couple needs one, inside and/or outside of the bedroom. Whenever doing something out of the ordinary, in this case kinky sex, a safeword can make you feel much safer, just as its name suggests. But if you do decide to use a safeword, both participants have to understand the importance of the word. It's not something to be said lightly, and it's definitely not something to be taken lightly. You can either choose a word that wouldn't be included in the ordinary conversation or use the traditional traffic light (red, yellow, green). You can also give your own meanings to the traffic lights. The most important thing to remember is, never ignore a safeword. Kink is always based on trust, and nothing would break that trust as thoroughly as something like ignoring the safeword.
2. Light bondage

So the next level bondage. For those still a little hesitant with bondage, I suggest starting with equipment that can be easily taken off by the one who is being tied up too. Equipment like leather cuffs with belt buckle locking system and bondage tape. Bondage tape is really not real tape. It feels sturdy when it's on, but a little twisting around will loosen them up. And bondage tape is also quite terrible when they get wet, so anything from saliva to sweat will also loosen them up. I know metal handcuffs are almost a cliche whenever talking about bondage, but depending on how sturdy they are, they might cause some serious damage on the panicky wearer trying to get them off. Obviously, I'm not a big fan of them. 😀 Unlike the next item on the list. 😛
3. Belt
The sexiest piece of clothing ever. 😛 Found on most men most of the time, the belt is a surprisingly versatile kinky tool. It's good for bondage, to loosely bind up both wrists. It's good for light spanking, just beware of the buckle. It's good for some wild sex, especially in the doggy style position. Just wrap the belt around the fuckee's hips and use it as leverage to hold onto. It's going to result in some very intense fucking, cos belt is much easier to hold onto than hips. 😛 Yes, you can thank me later.
4. Gags

Ah, how many of you had dreamed of shutting your partner up with a ball gag, raise your hands! XD Gags can be used for many purposes, to keeping quiet, to give freedom to scream as loud as you want. Plus they look pretty sexy. There are lots of different kinds of gags too, the ball gag being the most recognizable. But if you have a little mouth like I do, ball gags might be too big for you. Trust me, you don't want your jaws to lock, it's so painful. They do sell oval shaped gags that are also made from softer rubber, making them more comfortable to bite on. One thing about gags, expect a lot of  saliva to just come out. 😛 You can also use a piece of cloth or tape. Bondage tape does not make a good gag, losing its ability to stick. I strongly suggest against duct tape, it's a next level item. 😉 Patience, my young padawan. 😛
5. Nipple clamps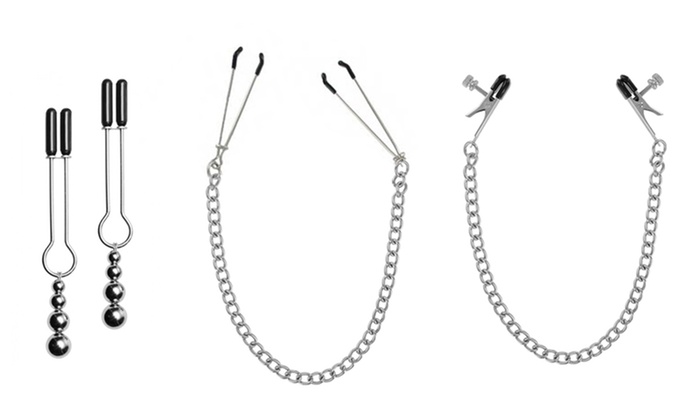 My personal brand of hell and torture, but I've heard that some other people might like them. So go ahead and get a pair. There are a lot of variety. I can't stand those that just clamp on like a clothespin, with a screwing mechanism to adjust the tightness. Then there are ones that hang onto nipples with a sliding mechanism to tighten up. Then there are also those with a little bit a weight in the end. If you have small inny nipples, I suggest the clothespin type, but if you have bigger nipples, the latter kind I mention can be more suitable.
6. Dirty talking, light

The things that are included in dirty talking can vary greatly depending on the nature of the relationship you have with your partner. Especially girls, some names you call them during sex might not be okay. Not everyone likes to be called sluts etc. Some might be okay with some and not okay with words like bitch or fucktoy. So in the beginning, I suggest you leave the name-calling out of dirty talking for now. And here's the secret, dirty talking is only awkward when you actually have to make up things to say. You just need to be yourself. Don't say things that are completely out of the character. For me, dirty talking is just saying what's on your mind, how do you feel, how your partner makes you feel and if you like what you're seeing, then say it. 🙂 And if you are doing the Dominant and submissive thing, the dirty talking is mostly the Dominant's thing. Leave out any hints of humiliation for now, because for some feeling humiliated during something as intimate as sex can be the deal breaker for further kinky adventures.
7. Short spanking instruments

After trying out bare hand spanking, belt spanking and small flogger spanking, the next step would be trying out other spanking instruments. Shorter spanking instruments are easier to control, especially when you are not sure of your own strength yet or how much the other one can take. I'm not ranking it according to the level of pain short or long spanking instruments can make, they just work differently and shorter ones require less aiming and practice to get right. And I guess for someone new with getting spanked, shorter instruments also look way less intimidating. The most common short instrument is the paddle. You can, of course, get yourself leather paddles from sex shops, but anything made from wood found at your house can substitute as a good paddle. Household items such as wooden cooking spoons or wide brushes. And when you are thinking about wooden brushes, put some money down and get yourself the darling brush amongst spankos, the wide wooden brush from the Body Shop. They are actually very good hair brushes too, but even better paddles. 😛 And for those who think a brush can't be very severe, my Dom and I are starting a collection of broken brushes. Sir had already broken two wooden brushes on my ass, once we break the third one, we are going to frame them. 😀
8. Mouth-fucking

This is the blowjob that I like, when my Dom is in control, mostly His hand firmly planted in the midst of my hair, guiding my head. He sometimes would trap my head between His thighs, pushing my head down and not allowing my head to come up for breath. 😛 It feels claustrophobic, it triggers slight panic but it also greatly arouses me. I really like to feel trapped by Him. But you would probably not want to do that right away. 😀 Since all women's magazines like Cosmopolitan tell men not to put a hand on a lady's head while said lady is giving head, I guess not everyone likes it? But do give this a try. Start slowly, the one who is doing the sucking can put his/her hand at the base of the penis, to prevent from gagging if that's not your thing. Careful of the teeth, relax your mouth, especially when speeding up a bit.
9. Rough sex

And then to the good bits. I've always been a fan of rough sex. I would go as far as to say that it's how sex is supposed to be, at least for me. Animalistic, sweaty, dirty sex. But not everyone enjoys the little pain in their lady parts with the initial penetration, so use lube or at least saliva to smoothen the penetration. Know your penis size and how compatible it's with the vagina. If the penis still slightly too large for the vagina, there are some positions that won't be very comfortable doing it rough, like doggy or missionary with legs up. In that case, I would suggest the spooning position or cowgirl. But if the penis is not too big, then have at it like rabbits. 😛 Also, if your heights are also compatible for some standing sex, it's a very good choice too.
10. Aftercare

After some kinky sex, aftercare is very important and not optional. It can be as simple as cuddling or talking or watching TV while holding hands. The point is to keeping the connection with each other, helping each other get back to the normal mindset. Sometimes when doing kinky deeds, the mindset might change. Even in the almost 24/7 Dominant/submissive relationship like I am with my Dom, I'm not in my ultimate submissive mode all the time. And aftercare is a method to take me out of the submissive mindset. And although light kinky sex might not shake you much mentally, what's wrong with some cuddling, just to be on the safe side? 🙂
Here there are, level two! Next week, we are about to get into something really kinky on level three. Until then, stay kinky! 😉