Last post to the bondage series was so long ago, it's time to add something new. And I guess I wanted to write something mushy, cos it's only Wednesday and Sir Atticus is still abroad for the rest of the week and this kitten misses Him bad. So I decided on writing about leather cuffs. I do like different kinds of bondage, leather cuffs might be on the softer side by being literally quite soft, they hardly ever leave marks like rope burns, they offer a little give to wriggle around.
In my mind, there are two kinds of bondage, the restricting kind and the protecting kind. The restricting kind, such as metal handcuffs or chains, are there to restrict movements and adds a binding aspect to it, it increases the sense of helplessness, the sense of no escape, and of course it enhances the fear of being trapped. And that would add something extra to the submission and surrender. The protecting kind, again, this is all just in my head, it's the kind that helps the subbie to keep their pose. Equipment such as leather cuffs and tape (especially bondage tape) are there add a little extra hold. Since they don't allow much physical struggling, the main thing that holds the submissive in place is, as always, Dom's command. I once saw a quote somewhere: "When it's His command that holds you, the rope is only window dressing." So true. Plus cuffs and tape offer a little blanket of safety too, cos I know I can get them off by myself if I really want to. Rope kind falls into both categories, it all depends on how careful you are being with rope, and how skillful the Dom is with the rope. Subs should learn about their bodies too, like which positions aren't that comfortable if there are issues with flexibility or like me, a bad knee.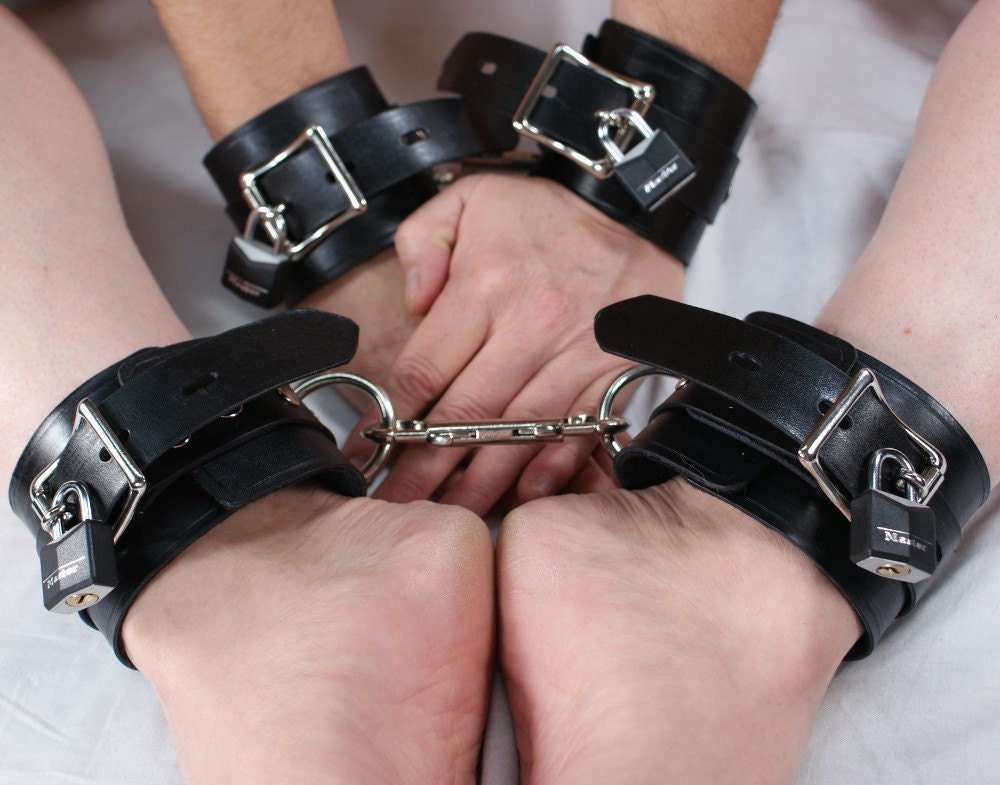 Anyways, back to the leather cuffs. Paired with the snap rings etc, they make really handy bondage equipment. They can obviously be used on wrists and ankles and neck. Some cuffs can be locked like shown in the picture. And leather cuffs' best friend is of course spreader bar. I have yet got to try spreader bars, cos finding a good quality rod that doesn't cost a small fortune proved to be rather challenging. Some day, some day. Leather cuffs are pretty inexpensive, but cheap ones can be quite hard. Pay attention to the ring part, you want it to be made of sturdy metal, cos that's the part that might break during play.
A pair of leather cuffs is the first bondage equipment I bought. They were pretty standard and quite hard. For many times my wrists have been tied behind my back. Or over my head while I'm standing or on bed to the bedpost. I've had both wrist and ankle cuffs used at the same time, coupled with ropes too. One of the reason I want to write about cuffs today is also because of one specific pair of cuffs, the softest ones. I love them so much that I've thought about naming them. There is a little bit of back story to them though.
So the first time I've encountered these cuffs, there weren't mine. I have this things with toys, I don't like to share. I mean, I can lend my toys to someone as long as hygiene is taken care of, but I dislike using a Dom's toys if I know they are used on someone else too. But this cuffs made an impression on me, because they were extra soft and the inside was lined with fur. They feel divine on my wrists. When I met Sir Atticus, I knew I just had to have my own pair of super fluffy cuffs. Because Sir was the first Dom with whom I had sleepovers. And on one of the first nights together, He wanted me to sleep in bondage ropes, loosely tied to His bed. It hadn't even crossed my mind before to sleep in bondage. Although the ropes were slightly uncomfortable, I still loved it. From that I got the idea to get fluffy cuffs mainly for sleeping in them. It took some digging, because the pair I first encountered was a gift, so I had to find the gift-giver first. Then it turned out that they were purchased from England, London to be more precise. It took the gift-giver a little walk down the memory lane to remember what was the shop's name that sold the cuffs. And fortunately, they have a webshop too. A very big webshop. It's from a sex shop called Honour. It took me four hours to go through their bondage equipment selection and tried to find the right pair just by browsing through product pictures. I finally found them and the delivery was very fast. Unfortunately, upon arriving, they weren't the fluffy cuffs I was expecting. Turned out they just had the wrong picture on the wrist cuffs I ordered. So I went back online to look for the right pair for exchanging. So back to the post office to return them, and waited and waited for the new pair to arrive. But then they informed me that they were out of stock… Okay, long story short, it took ridiculously many weeks to arrive. But I finally got the cuffs that I wanted, and they are misleadingly called ankle cuffs, kinda giving the impression that they might be too large for wrists, especially my puny little wrists. But they fit just fine, with still one hole to spare for even further tightening. I had to compliment Honour web shop, despite all the mistakes and delays, they were probably the fastest and most friendly customer service I've ever encountered. This is not sponsored or anything, but if you are interested in investing a little more on a pair of soft leather cuffs, get these.
So here they are, probably would always be my favorite pair of cuffs. I've done some adjusting to make them even more suitable for sleeping in. As can be seen from the picture, there are fixed snap hook on each cuffs. With tools and pure muscle I managed to pry open the ring that was holding the snap hook and detached them from the cuffs. But now there are anything to get in the way. I love sleeping in them. They felt so soft and warm against my sensitive skin on my wrists and they smell kinda amazing too. Right now, they are resting in Sir's toy chest. He did ask me the day before His trip, on my droppy day, whether I want the cuffs to sleep in. But I figured it would just make me miss Him more to wake up with the cuffs on but not next to Him. I can't wait for Him to come back so I get to sleep in cuffs again. And can't wait for the weather to get colder so the furry cuffs would feel even more amazing.
Sorry for the messy and sappy post. 😀 Next week when Sir's back, the Wednesday kinky post might be less sappy. No promises on the messiness though. So see you back here next Wednesday with something naughty. Until then, stay kinky! 😉