So, some news to share. As you may or may not know, I have another blog Doxophilia that is about my nerdy side aka movies, music, books etc. But since I've created this blog, I really don't have enough time to update the other one. Recently I had a crazy idea, what if I combine the two blogs? Namely I would put a more solid weekly schedules. Don't worry my pervy kinky readers, I still going to focus mainly kink, just going to add some more post about something else too. I'm still working on a realistic and doable schedule, so I think the new schedule will be completely ready next year when I'm back from behind the Great Fire Wall of China. So the rest of this year would be test-driving different potential categories. So basically I lured you in with sex and kink, and now I'm making you get to know my other sides. 😉
This 'category' is here to stay, I'm quite sure already. And Sunday would be a great day for 'Weekly Obsessions' where I share things I obsessed with the past week. The name is obviously 'borrowed' from the Superfruit, go ahead and check out those adorably guys with voices of angels. But let's get into my weekly obsessions.
1. The Queen by Tiffany Reisz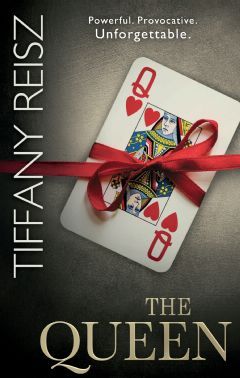 Ah the Original Sinners, the book series that I would rather have representing the BDSM community than the fucking Fifty Shades of Bullshit. It does have its faults, the D/s relationships are more dramatic and extreme, and it's definitely not sane and safe all the time, but hey it's fiction, it needs to be dramatic. I read the first book The Siren last year, and it's really the weakest book. It took me almost one year to continue to the second book The Angel. And almost parallel to the beginning of my own kinky adventures, I devoured the whole book series, its short stories, prequels, every single written thing. And as this crazy year 2015 comes to its end soon, I obsessed over this last book of the eight-book series. It would be bitter sweet to say goodbye to Mistress Nora, the only French man who has my love Kingsley, and the extreme sadist Soren who makes me feel closer to God than any other fictional character has ever succeeded. I will write a more thorough review once I've read this last book.
2. Documentaries and TV shows about obesity and lifetime changes
Fat Families, Heavy, Fat Doctor, The Weight of the Nation, Secret Eaters, My Big Fat Diet… just to name a few show I've been binging on these past week. I almost always watch British dieting shows while I'm cooking but I'm finding these shows quite entertaining and they push kinda push me to keep on my workout. Yes, I'm a little sick. 😀 Even now I have one episode from Fat Families playing on the background while I'm writing this. 😛
3. Central Intelligence (2016) trailer
What can I say, it's The Rock, whom I adore. I've watched this trailer way too many times for it to be healthy.
4. The Hunger Games: Mockingjay, part 2
December 2011 I read the Hunger Games trilogy, few months before the first movie came. I was in love with Jennifer Lawrence back then already, but the first movie was a disaster. I remember that I wrote some reviews in my very old blog at the blogger.com platform, I'm not even sure whether it's out there still. If I find them, I will share them here. About the ending, it was extremely unnecessary to split the last book into two movies, but since it's how they do it in Hollywood nowadays, to sell more tickets. Story-wise it could easily be one movie. There simply isn't enough material for two super long movies. I don't feel as much anymore. The things that gave me goosebumps at the second movie, which is by far the strongest one of the four movies, I don't really care about it in this last one. It was more like to get it over with so I can end this little four-year era and move on to other things. So guess this wasn't a weekly obsession although I was that four years ago when it all started.
5. The Canes
So as I've mentioned before that I'm working out like crazy for five weeks and my Dom has agreed to help with my training discipline. Well last Monday I overslept. I missed my workout. And we had a scheduled session on last Tuesday anyway, so of course my promised caning punishment came faster than I thought. Ten strikes was my punishment, and I actually thought to myself that nah, ten is not so bad now, is it? So I clearly forgot who I'm dealing with. Why would I ever think that my Dom would let me off easy? Silly silly girl. After a very thorough warming up spanking with the hand, the leather paddle, the flogger and the crop, then came the ten strikes with the cane. After that, when I thought it was all over, I heard Him say from behind me: "So that you won't repeat the same mistake anytime soon, ten more." I might actually have groaned out loud, well as loud as I could with a cane between my teeth. See, I have two canes, one slightly thinner than the other. My Dom likes to use the other one as a gag, cos I am VERY loud during canings. After the second ten strikes, I imagined that I felt Him taking hold of the gag cane, so I let them off between my teeth. Well, He didn't. I imagined it. I dropped my gag. Goddammit what a rookie mistake. So another five strikes for that. The 25 strikes may not sound a lot, but it was done hard enough to break my skin. I got some blood stains on my floor, and on my canes. The blood on my floor I scrubbed clean, but I became a little obsessed with the stains on my canes. They look downright terrifying, like canes don't scare all on their own already. I decided not to even try to get rid of the stains, cos my butt with pretty scars and I are pretty damn proud of those stains. Sweat, tears and blood, literally. And oh, not a chance in the world that I would miss another workout for the next three weeks, cos my Dom said that if He needs to come to give me a punishment again for the exactly same reason, the number of strikes will be 50. As proud as I am of the blood stains on my canes, I really rather not get more stains on them, at least not for the same reason or anytime soon. I hope. 😛